Zimbra is an enterprise-class email, calendar and collaboration solution built for the cloud, both public and private. With a redesigned browser-based interface, Zimbra offers the most innovative messaging experience available today, connecting end users to the information and activity in their personal clouds.
Zimbra's Open Source Community
Since the inception, Zimbra has been a community. All of our Zimbra Collaboration Open Source Edition software, documentation and innovation has been created, tested, used, and discussed openly by people like you participating in our Open Source Community. Our contributors diagnose bugs, fix bugs, translate programs, submit patches, point out deficiencies in documentation, answer community questions, submit killer applications, alert us to something that needs tweaking, and write new software. No matter how you contribute, we welcome new ideas and contributions for the advancement of greater shared knowledge and a better Zimbra Collaboration product.
So jump in! Zimbra Collaboration Open Source Edition is available for you to test, evaluate, deploy, customize and improve.
Special Note: Zimbra recently made key changes to its open source software licensing in order to build an even stronger foundation for community-powered innovation. With the release of Zimbra Collaboration 8.5, Zimbra officially moved to Open Source Initiative-approved licenses. The Zimbra Open Source Edition Web Client Code is released under the Common Public Attribution License, version 1.0 (CPAL v.1). The Zimbra Open Source Edition Server Code is released under GNU General Public License, version 2 (GPL v.2). The Zimbra Open License Community Zimlets Code is released under the Common Public Attribution License, version 1.0 (CPAL v.1). Versions prior to version 8.5 will remain under the Zimbra Public License 1.4. By moving to OSI-approved licenses, Zimbra hopes to increase contributions from the open source community and increase compatibility with other open source projects, so that customers, partners, and end users receive greater benefit from integration across the open source software ecosystem.
The main features include:
A Smarter Mailbox reduces time spent finding important emails
View inbox by message or by Conversation
Drag and drop messages into folders or onto Tag(s)
Share tags across applications and mailboxes
Messages may have multiple Tags and act as 'virtual folders'
Instant filtering of direct messages, distribution lists, feeds, and notifications
Move bulk or unimportant email out of Inbox to Activity Streams
Robust calendar designed for the enterprise
Day, Week, Work Week, Month, List, Schedule Views
Drag and drop events to change date, time or duration
Toggle visibility and color code multiple schedules and events
Mark events public, private, busy
Tag events for faster organization, share them with email, contacts
Multi-Tab Event Compose makes toggling between calendar and email unnecessary
Invite attendees from Global Address List (GAL), view free/busy and set optional/mandatory
Set start-stop and duration times, automatically adjusted for users in other time zones
Choose locations, resources and add attachments
Configurable pop-up, email and SMS reminders
Fully customizable repeating event settings
Zimbra Collaboration Server can be shared internally or externally
Share Inbox mail folders, Address Book contacts, Calendars, Tasks, Briefcase folders and files
One standardized sharing UI, which is integrated with Global Address List (GAL)
Choose internal (read, manage or administrative access) or external publishing (view only with password or public URL)
Available settings to users are all Administrator configurable
Zimbra Chat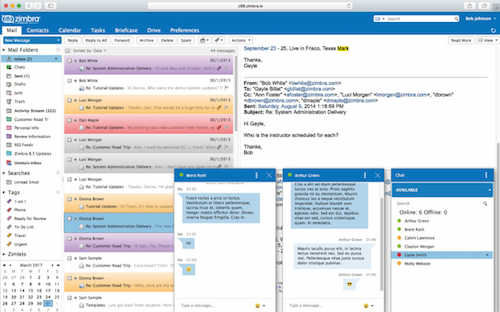 Communicate with other users right from within the Zimbra Web Client.
Invite and remove users from the buddy list and assign nicknames.
Start chatting with a simple click.
Show your mood in chat with emojis.
Switch between four status messages: Available, Away, Do Not Disturb or Invisible.
Enable the Zimbra Chat Zimlet, and your users are ready to start chatting
Simplified Administration
Simplified, task-oriented AJAX Web Administration Console enables anywhere administration
Integrated anti-Spam, antivirus and directory services (LDAP, Active Directory)
Manage end-user features, quotas, storage policies via Class-of-Service (CoS)
Migration Wizards enable customers to rapidly and easily migrate from Microsoft Exchange and Domino environments to Zimbra
And many many more….
Generally, I have been using Zimbra for a while now(Opensource edition), and in comparison to other solutions like MS Exchange, it is easier to administer, stable and with a nice support.
For more info, visit the official website at: https://www.zimbra.com/